Par Levent Yılmaz  Le Monde  19.02. 2018
Le 2 février 2009, s'est déroulée une cérémonie à l'église Sainte Irène, la plus ancienne église d'Istanbul, désacralisée et désormais dévouée aux concerts, cérémonies et expositions. Sur la scène, le premier ministre turc de l'époque, Recep Tayyip Erdogan. Il était là pour décerner le grand prix pour les arts et la culture du ministère de la culture. Son discours débuta par ces paroles : « Il n'était nullement facile d'accepter les différences et la diversité en Turquie ; les préjugés rigides et les attitudes intolérantes avaient clôturé la pensée et son expression ; la Turquie en était victime. »
Le lauréat du grand prix était le grand romancier Çetin Altan. Un geste symbolique de la part de la République, car Çetin Altan, né en 1927, était un journaliste et romancier socialiste très influent. Il fut parmi les quinze premiers députés socialistes du Parlement entre 1965 et 1969. En 1968, au beau milieu du Parlement, il avait été lynché et avait failli perdre son œil. A l'époque du coup d'Etat de 1971, il avait été arrêté, condamné et avait passé deux ans de sa vie en prison. Ce fut le cas de nombreux autres écrivains de la Turquie moderne, à commencer par Nazim Hikmet et Yaşar Kemal. Lui rendre un hommage en lui décernant le Grand Prix, était une sorte de demande de pardon de l'Etat aux opposants, même les plus farouches.
Erdogan poursuivit : « Ce genre de cérémonie offre la possibilité d'une autocritique. La vie de Çetin Altan a été traversée par des tempêtes, des ouragans. Il a mis en avant une critique souriante mais féroce, enrobée d'intelligence, de la culture. Nous ne pouvons pas progresser sans la raison critique. Il faut qu'on apprenne à tolérer la critique ; nous ne pouvons pas réaliser notre pari de civilisation sans la liberté d'expression, sans la pensée, l'écriture et la liberté de parole. Le fondement de…
To continue reading the article please click here.
La notizia della condanna all'ergastolo a carico dello scrittore Altan e di altri cinque giornalisti, arriva nella medesima giornata in cui è stata annunciata la liberazione del reporter turco-tedesco Deniz Yücel. La conferma, come riporta Il Foglio, è giunta nella giornata odierna con una foto postata su Twitter e che immortala il giornalista turco-tedesco con una mano di fiori tra le mani mentre abbraccia sua moglie, lasciandosi alle spalle il filo spinato della prigione. Il giornalista ha trascorso in carcere ben 366 giorni senza alcuna accusa formale e diversi mesi addirittura in isolamento in una prigione di massima sicurezza appena fuori Istanbul. A distanza di un anno, oggi un tribunale della Turchia ha disposto la sua liberazione. L'uomo era stato accusato di aver fatto "propaganda per un'organizzazione terroristica" e "fomentato l'odio e l'ostilità". Secondo il governo turco, il corrispondente della Die Welt Yucel sarebbe reo anche di spionaggio per l'intelligence tedesca. (Aggiornamento di Emanuela Longo)  Continue reading "Lo scrittore Altan all'ergastolo: la mobilitazione internazionale" →
The Guardian story on the sentencing of Ahmet and Mehmet Altan and four others.
The New York Times story on 16 February 2018, with a quote from and link to the essay Ahmet Altan published from prison in 2017.
On February 16, 2018 Ahmet Altan has been sentenced to life in prison. PEN America has issued a press release, calling the judgment "a horrific assault on freedom of expression and freedom of the press in Turkey, and on the rights and liberties of these individuals."
Stessa pena inflitta ad altri cinque giornalisti
Marta Ottaviani  La Stampa 17.02.2018
Un anno fa, a La Stampa, dalla prigione dove era recluso, aveva detto «non so che ne sarà di me». E ieri la magistratura turca ha deciso che le porte del carcere per Ahmet Altan e altri cinque giornalisti, fra cui suo fratello, Mehmet, devono rimanere chiuse per sempre. Il tribunale di Istanbul ha riconosciuto i sei reporter colpevoli di aver cercato di sovvertire l'ordine costituzionale e di essere membri di Feto, il network di Fethullah Gülen, ex imam in autoesilio negli Usa, un tempo alleato…  Continue reading "Turchia, ergastolo allo scrittore Altan: "È un terrorista"" →
Sur l'écran suspendu au plafond, les deux hommes aux cheveux blancs agitent la main pour saluer, et envoient des baisers. Ahmet et Mehmet Altan sont en visioconférence de leur prison, et répondent aux signes envoyés par une partie du public en direction de la caméra, un bref moment d'humanité, "volé" aux juges et aux gendarmes qui font régner l'ordre dans la minuscule salle d'audience du palais de justice d'Istanbul.
Ahmet et Mehmet Altan, deux frères bien connus en Turquie, le premier journaliste et romancier, le second auteur et universitaire, risquent trois peines de prison à vie. Ils sont accusés d'avoir commis "un crime" au nom d'une organisation terroriste sans en faire partie, d'avoir tenté de renverser l'ordre constitutionnel, le Parlement, et le gouvernement de la République de Turquie. Rien que ça, et dans le dossier il n'y a que trois chroniques et une émission de télévision supposée contenir des "messages subliminaux" émis à la veille de la tentative de coup d'Etat de juillet 2016…
Die FR würdigt auf der Buchmesse den inhaftierten türkischen Schriftsteller Ahmet Altan. Er sitzt wegen seiner Arbeit als Autor seit mehr als einem Jahr in Haft.
Der türkische Journalist und Schriftsteller Ahmet Altan kann nicht zur Frankfurter Buchmesse kommen. Der Grund ist so simpel wie tragisch: Er sitzt wegen seiner Arbeit als Autor in Haft, noch immer, auch mehr als ein Jahr nach seiner Festnahme und trotz internationaler Proteste. Angeblich soll Ahmet Altan in einer Fernsehdiskussion am Vorabend des Putschversuchs in der Türkei "subtile Botschaften" zugunsten der Putschisten von sich gegeben haben.
Der 67-Jährige gehört zu den 15 türkischen Journalisten, für deren Freilassung sich die Frankfurter Rundschau in einer Solidaritätskampagne einsetzt. In einem Essay mit dem Titel "Das Paradox des Schriftstellers", den er der FR zukommen ließ, beschreibt Altan seine Situation im Gefängnis Silivri bei Istanbul, in dem auch viele andere Intellektuelle einsitzen, etwa der Journalist Deniz Yücel oder der Menschenrechtler Peter Steudtner aus Deutschland.
To read the full article in German, please click here.
Par Pierre Haski, Journaliste, président de Reporters sans frontières — 
Ahmet Altan est un journaliste et romancier turc réputé de 67 ans. Adresse actuelle : prison de Silivri, Istanbul. Je suis, depuis quelques jours, le «parrain» d'Ahmet Altan, bien qu'il n'ait pas réellement besoin d'un parrain, et encore moins besoin de qui que ce soit pour le défendre, il fait très bien ça lui-même…
Der Tagesspiegel  26.07. 2017
Der Schriftsteller und Journalist Ahmet Altan steht in der Türkei vor Gericht. Er verteidigt sich selbst. Sein wütendes Plädoyer verdeutlicht, wie die Türkei die Justiz instrumentalisiert, um Kritiker mundtot zu machen. Wir dokumentieren den Text.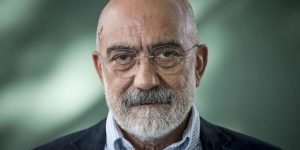 Ahmet Altan's celebrated novels Kılıç Yarası Gibi (Like a Sword Wound), İsyan Günlerinde Aşk (Love in the Days of Rebellion), Ölmek Kolaydır Sevmekten (Dying is Easier Than Loving), and a concluding novel, a sequel to the other three, will be published in world languages under the name "the Ottoman Quartet."
Sandro Ferri, (who also publishes Elena Ferrante, the enigmatic author of the bestselling four-volume series Neapolitan Novels), has recently signed a deal with Altan to publish his books in English and Italian and sell translation rights of the four novels to other languages.
Continue reading "Ahmet Altan on world stage with the Ottoman Quartet" →
Novelist and journalist Ahmet Altan testifies in "insult" case, says the court case "should be dropped if Erdoğan and I are equal before the law"
PUNTO24 / March 2, 2017 Istanbul
Renowned journalist and novelist Ahmet Altan appeared on Thursday before a judge in the latest hearing of a case in which he is charged with "insulting the president" in remarks during a television program in September.
Altan, held in pre-trial detention since September in a separate case in which he faces accusations of "attempting to overthrow the Government of the Republic of Turkey" and "membership in a terrorist organization," said the court case against him should be dropped on the basis of a previous ruling handed down in response to an insult complaint against Erdoğan.
Judith Butler, Antonio Negri, Edgar Morin join signers of letter in support of Turkish writers; Roberto Saviano dedicates award to Altan brothers
K24 / September 16, 2016 Istanbul
Support for an international letter protesting the recent detention of Ahmet and Mehmet Altan and calling on end to the unjust persecution of writers in Turkey has continued to grow in the fourth day after the letter was made public.
On the fifth day of the Altan brothers' detention, the letter has found 241 signatures from some of the world's most well-known writers, intellectuals, academics, publishers and actors. The most recent signers include American philosopher Judith Butler, the celebrated Italian Marxist philosopher Antonio Negri –viewed as the leading theoretician for the left– and the French philosophers Edgar Morin, Jean-Luc Nancy and Judith Revel. Nobel laureates J.M. Coetzee, Herta Müller and Orhan Pamuk are among the original signatories of the letter.
Italian journalist and writer Roberto Saviano, who'd signed the support letter on the first day, won the prestigious M100 Sanssouci Media Award at the Sanssouci Colloquium in Potsdam, Germany on Sept. 15.
In his acceptance speech at the ceremony, where Chancellor Angela Merkel was also present, Saviano said he dedicated his award to Ahmet and Mehmet Altan.
Continue reading "Leading philosophers support Turkey's writers" →