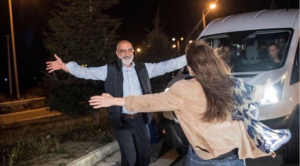 4-12 November, 2019, English PEN
English PEN is deeply concerned that writer Ahmet Altan is facing the threat of re-arrest following his release from prison in Turkey last week.
Philippe Sands QC, President of English PEN, has condemned the news, stating
I am gravely concerned by media reports which suggest that Ahmet Altan might be re-arrested. The world is watching Turkey, a country which has committed to the ECHR and other international obligations which require it to uphold due process rights, freedom of expression and fundamental principles of humanity.
*****************************************
English PEN warmly welcomes the news that author Ahmet Altan and journalist Nazlı Ilıcak were released on 4 November 2019 after more than three years in pre-trial detention. The court ruled to release Altan and Ilıcak based on the time they had already served.
Both were convicted on charges of 'aiding a terrorist organisation without being a member'. English PEN believes these charges to be politically motivated. No credible evidence has been presented linking the defendants to terrorism and the case should never have gone to trial.
Ahmet Altan's brother, academic Mehmet Altan, was acquitted due to lack of evidence.
Philippe Sands QC, President of English PEN and the first foreigner allowed to visit the Altan brothers during their time in prison, welcomed the news, commenting:
A moment of #freedom for #AhmetAltan, who gets to see the world again. Priceless. Big appreciation to @englishpen @pen_int @P24Punto24 @GrantaBooks @SRausingTrust @Elif_Safak @YaseminCongar_ and the many others in Turkey and around the world who persisted.
'Bittersweet victory'
Whilst we welcome Ahmet Altan and Nazlı Ilıcak's release and the acquittal of Mehmet Altan, it is a bittersweet victory as three of their co-defendants — Fevzi Yazıcı, Yakup Şimşek and Şükrü Tuğrul Özşengül — were convicted of 'membership in a terrorist group' and remain in detention. English PEN calls for all charges against Ahmet Altan and Nazlı Ilıcak to be dropped and urges the Turkish authorities to immediately release and drop the baseless charges against their co-defendants.
Daniel Gorman, Director of English PEN,
said:
While we warmly welcome the news that Ahmet Altan and Nazlı Ilıcak have finally been released, we nevertheless deeply remain concerned that they and their co-defendants have been convicted on bogus terrorism charges. We continue to call for the release of Fevzi Yazıcı, Yakup Şimşek and Şükrü Tuğrul Özşengül and the many others who remain in detention in Turkey, still the world's biggest jailer of writers and journalists.
Case background
Ahmet Altan and Nazlı Ilıcak were arrested in July 2016 in
the wake of the failed July coup attempt in Turkey. They were initially given life
sentences, charged with attempting to overthrow 'constitutional order,'
'interfering with the work of the national assembly,' and 'interfering with the
work of the government.' This latest re-trial was on terrorism charges following a ruling by the Supreme Court
of Appeals in July 2019.
The Altan brothers have been a key focus of English PEN's campaigning work in Turkey, including alongside our Free Turkey Media campaign partners and through our Speak Out campaign with the Society of Authors and the Publishers Association.
James McConnachie, Editor of The Author, with whom we commissioned Ahmet Altan's essay 'The Writer's Paradox', translated by Yasemin Çongar and published on the eve of his September 2017 trial, commented:
'Like all writers, I have magic', wrote Ahmet
Altan. 'I can pass through walls with ease.' Now, at last, he
does not need to use the walls – because the door, mercifully, has opened.
Authors around the world are delighted that our inspiring colleague is
free at last.